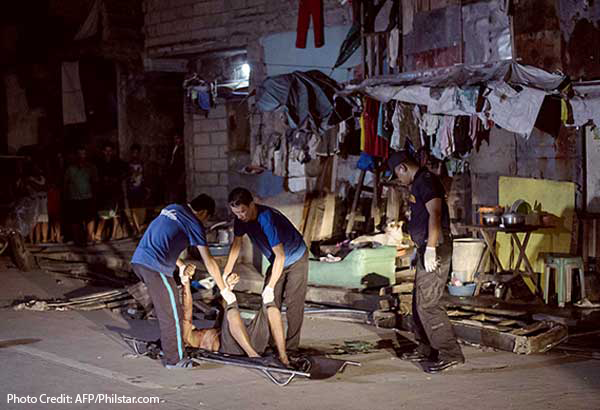 Sen. Bam Aquino welcomed the resolution filed by the Senate majority condemning the killing of 17-year-old Grade 11 student Kian Delos Santos and calling for an investigation into the bloody drug war.
The senator called this an opportunity for the Senate to assert independence, uphold justice and stand with the Filipino.
"Marami na sa ating mga kababayan ang malungkot, galit, at nananawagan na tapusin na ang patayan, kung saan ang mga mahihirap na Pilipino ang laging nabibiktima," stressed Sen. Bam.
 Sen. Bam also filed a resolution seeking to investigate the series of drug raids conducted by police in different parts of Metro Manila and Bulacan that resulted in the death of at least 80 people, including Kian.
"We expect that our filed resolutions will be consolidated so we can get to the bottom of these extrajudicial killings together and reassess the government's strategy in addressing the drug problem," said Sen. Bam.
 The senator emphasized that the resolution is aimed at ending police abuse and protecting citizens, especially the helpless and the poor.
 "There is a need not only attain justice for Kian and other victims of abuse by the State in the hands of our law enforcers and authorities," said Sen. Bam.
In addition, Sen. Bam called on the government to reassess and change the strategy of the administration's drug war, which targets only the poor and the helpless, while influential personalities are given due process, especially those involved in the P6.4 billion illegal drugs that slipped past the Bureau of Customs last May.
"The government's all-out war against illegal drugs has failed to address the root causes of the drug menace in the country," said Sen. Bam, who recently visited the wake of Kian in Caloocan City.
 According to Sen. Bam, there have been thousands of deaths under investigation, including 3,116 killed in police operations and 31 children, since the Duterte government assumed office last July 1, 2016.
Last August 16, 2017, Kian, a Grade 11 student, was among the 12 people killed in simultaneous anti-drug operations in Caloocan City. He was found dead in the site of the encounter, lying face down in fetal position, with three gunshot wounds, one to his back and two to his head.
 Police claimed that Kian fired at them with a 45-caliber pistol but several witnesses attested that the Grade 11 did not have a gun and did not resist arrest. CCTV footage also showed men in civilian attire dragging a young man believed to be Kian before he was shot in a dark alley.